The Best Cycling Destinations in Croatia
Craving a holiday to Croatia that combines delicious food, amazing scenery, unreal views (like, even-better-than-Instagram-views) and a hearty dose of adventure?
We've got the perfect solution for you—and all it requires is two wheels and some pedaling power! Cycling Croatia via a bike tour is the perfect way to see this drop-dead gorgeous destination in Europe.
If biking around a foreign country sounds intimidating, just keep reading—we'll show you where to explore and how to tour Croatia by bike. Or join our Croatia Adventure Tour, and we'll take care of all the logistics, so you can just show up ready to rock and ride.
Top Cycling Destinations In Croatia
With literally hundreds of Croatia cycling routes to tour across the Istrian countryside, the Gorski Kotar mountains, Hvar Island and Korcula Island, and southern towns across the Dalmatian Coast—where in the world do you even begin? Get your Europe bucket list out and add one of these incredible cycling destinations in Croatia right to the top.
See our recommendations on a map! Get our map here.
Istria
Istria, the small peninsula in Northern Croatia near Italy, offers some of the best Croatia cycling. The famous Parenzana Trail is 120km, taking your bike tour on a ride through olive groves and hilltop towns. You'll get a taste (literally!) of some of Croatia's best views—and foods. For an even more off-the-beaten-path holiday, you can head out to Brijuni National Park (on an island off Pula's coastline).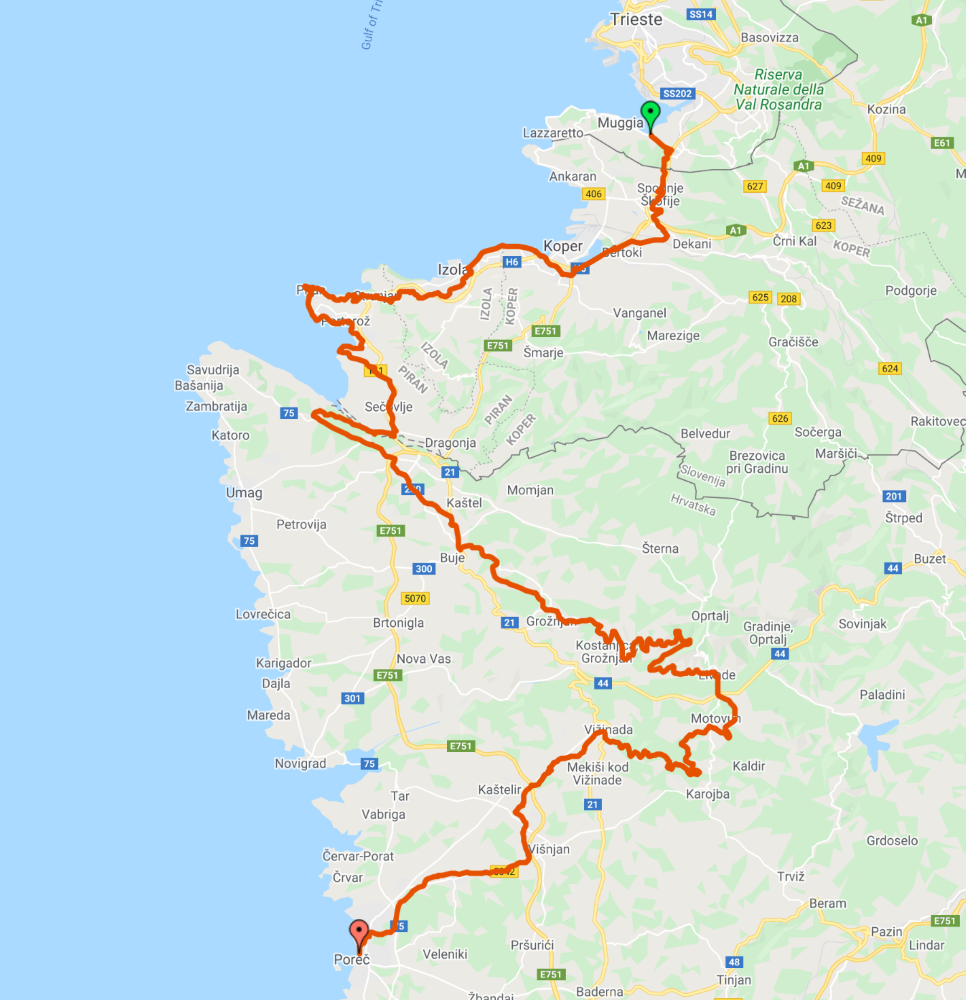 How to get there: From Zagreb, it's a quick 3 hour drive, or you can take a bus (which is a bit longer at 5 hours). You can also fly into Pula from other areas of Croatia.
When to visit: Plan your ride for late spring and early autumn—when the weather is warm but not scorching, and the summer crowds are nowhere to be seen.
Where to stay: If you like to be in the center of things, Pula is the biggest of the Istrian cities with plenty of hotels. For a more local destination, find accommodations in Rovinj or Porec. And if you're after delicious meals, incredible views and local vibes, you can't go wrong staying in Motovun.
What else to do there: In between bike rides, make sure to make time for plenty of wine and truffle-tasting, get lost in the charming towns and fishing villages, and make a trip to Groznjan, the "village of artists."
Dalmatian Coast
With more than 120 cycling routes across the Dalmatian Coast, it's a great place to ride if you want to see some stunning Croatian scenery. One of the best ways to cycle through Dalmatia is to begin in Drvenik and follow the Dalmatian Coast down Gradac before following the cycling route inland through charming villages like Brist, Podace, and Zaostrog on your way back to Drvenik.
How to Get There: Flights into Split or Dubrovnik are easy to find. If you're coming from Zagreb, you can take a train to Split in about 6 hours, or drive from Zadar in about 2 hours.
When to visit: As with most places in Croatia, late spring and early fall offer the best weather, although avoiding peak season (the summer months) is especially important in Dalmatia, due to its popularity.
Where to stay: Split and Dubrovnik are the most popular places to stay in Croatia—and both great choices!—but you might also consider Makarska or Brela for a destination more off-the-beaten path.
What else to do there: While you're there, be sure to explore Dubrovnik to walk the city walls made famous by Game of Thrones, or take a cable car to see the ancient city from above. Have a few extra days? A day trip to nearby Dalmatian islands like Hvar, Korcula or Mljet Island National Park are perfect for experiencing Croatian culture and food—and more cycling.
Konavle Valley
One of Croatia's best-kept cycling secrets, the Konavle Valley packs your bike ride with lush valleys, coastline and mountains. Between the Dalmatian Coast and Croatia's border with Montenegro, you can take a cycling tour on quiet roads alongside rivers and vineyards, monasteries and small villages. If you're into mountain biking, then go for this mountain biking trail loop with views of Cavtat, Konavle and Dubrovnik.
How to get there: From Dubrovnik, it's a quick 30-minute to 1-hour drive. If you don't have a car, an organized tour is your best bet.
When to visit: Konavle Valley is best for fall holidays, when the summer tourists—and hot weather—cool off. 
Where to stay: This small valley is most accessible as a day-trip from cities like Dubrovnik or Cavtat, where there's plenty of hotels.
What else to do there: For such a small area, there's a lot to do! Experience a folk festival in a local town, tour the Franciscan monastery, even take a traditional Silk class.
Gorski Kotar region
For a change of scenery from the Mediterranean islands, tour the "Green Heart" of Croatia in the Gorski Kotar region. The Cycling Trail of Gorski Kotar connects the national parks, history and culture, and fantastic food on an incredible 260km (161 miles) trail. From woodland forests to wonderful panoramic views, this is definitely a tour for cyclists' bucket lists.
How to get there: Located in Northern Croatia, it's just a 1.5 hour drive from Zagreb or Istria. You can also take a bus from Zagreb and clock in around 2 hours later.
When to visit: With river valleys and mountain panoramas, it's definitely best for tours in the spring, when the greens are lush and vibrant and the waterfalls and rivers are flowing.
Where to stay: Delnice is the largest town and a great hub for exploring! You'll have plenty of cafes and charming streets, but peace and quiet to enjoy as well.
What else to do there: Soak in all the nature. Go hiking in Risnjak National Park, ride a zipline in Kupjak Adrenaline Park or tour Lokvarka Cave–229 feet underground (!)
What To Know About Bike Tourism In Croatia
Cycling tourism is becoming more and more popular in Croatia, and once you go, it'll be pretty easy to see why a bicycle tour is the best way to see Croatia! Croatia has enough natural scenery to keep you powered up and pedaling for your entire cycling trip.
Even better, there's something for every cyclist in Croatia, from an easy bike ride to challenging, multi-day bike trips. If you're nervous about the fitness levels required, renting E-bikes can help take some of the edge off of those hills—or was that the award-winning wine? Either way, it's a good idea to prepare for cycling Croatia tours by doing a few day rides in advance, preferably on some hilly terrain.
Transporting Your Bike With You In Croatia
When you want to take a break from riding, your best options for transporting your bike with you in Croatia are larger car ferries and the Croatia Rail lines.
For island hopping (say, to Korcula Island or Mljet Island National Park), taking the ferries is the most reliable option. Jadrolinija allows bikes on all of their ferry lines—just be prepared to pay a (small) additional fee for your bike. High-speed boats and catamarans are generally available for foot passengers only.
If you're traveling over land, the Croatia Rail system is your most reliable option. You can bring bicycles on any Croatian Rail line in the standard baggage holds if you can package your bike. Otherwise, certain lines have small bicycle cargo spaces (enough for 10 bikes only, so arrive early for your journey!)
Tips For Cycling In Croatia
The right planning for your Croatia tours can make all the difference between an unforgettable trip and a trip you'll wish you could forget.
When planning your ride, try to cycle on local roads whenever possible, especially if you're traveling during the busy summer season. Summer traffic can make main roads busy and more difficult for bicycles.
If you're feeling uncertain about your cycling Croatia, there are many biking trips and cycling tours in Croatia you can join and an experienced guide will show you the ropes!
Carry (and use!) appropriate bike lights. Some bike routes in Croatia cross narrow roads, and locals drive fast. Having appropriate lighting for your bike tour is a must if you're biking at night.
Be prepared for hilly terrain. A few warm-up bike rides before you go can go a long way in preparing you for cycling in Croatia.
Bring plenty of water and sunscreen! Many bike routes have small rolling hills and exposed routes for cyclists (especially along the Dalmatian Coast), making water and sunscreen a necessity on hot summer days.
Plan your route carefully and know how to transport your bike back. Know where and how you can transport your bike in advance so you don't end up with any unpleasant surprises. And always carry a map, even if you're with a group!
Join Our Croatia Bike Tour For Women
Ready for the adventure of a lifetime but don't want to deal with bike logistics? Soak up Croatia's beaches, vineyards and islands with a group of other keen cyclist women on Explorer Chick's Hiking National Parks And Multisport Adventure Tour.
Rachel Bicha
Rachel is a hiker, traveler, writer and adventurer. Whether she's home in New England or halfway across the world, she's probably just looking for her next mountain to climb. If she's not traveling or hiking, you can probably find her sketching, taking long walks around town, reading on the porch or perfecting a new recipe.
Favorite outdoor adventure: solo-hiking through the Dolomites in Italy!
Learn More About Croatia